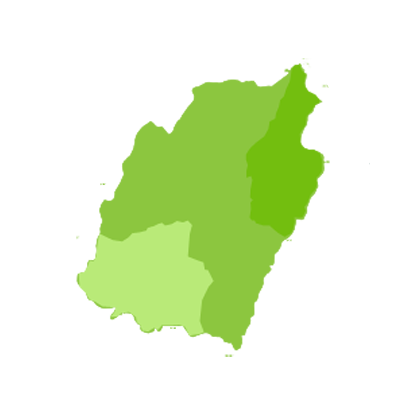 Manipur, as one might say without hesitation, is a paradise come true on earth. It literally means "the jeweled land". Manipur is richly endowed with natural beauty and splendour. Home to Sangai, a rare species of deer and Siroy Lily, the only terrestrial lily grown on the hill tops of Siroi hill, St. Clair Grimwood described it as "A pretty place, more beautiful than many show places of the world." Late Pandit Jawaharlal Nehru paid a fitting tribute by describing it as "Jewel of India". Manipur is bounded by Nagaland to its north, Mizoram to its south, Upper Myanmar to its east and Cachar district of Assam to its west.
Manipur is comprised of nine districts: Bishnupur, Chandel, Churachandpur, Imphal East, Imphal West, Senapati, Tamenglong, Thoubal and Ukhrul.
The history of Manipur is quite interesting. It was in the year 1891, after the first Anglo-Manipuri war that the state came under British rule. There were many heroes who sacrificed their lives while fighting the war. Yuvraj Tekendrajit and general Thangal were hanged after the British captured Imphal. It was after the independence of India in the year 1947 that a Manipur Constitution Act was established in order to ensure the prevalence of a democratic form of government. It was on 21 January 1972 that Manipur gained full statehood. Throughout the ages Manipur was known as Meiteileipak, Kangleipak and Meitrabak. Apart from these names, there were twenty other names by which the state was known.
One of the other languages people love to speak in Manipur is Bishnupriya Manipuri. Bishnupriya Manipuris are the one and the only tribe that speaks Bishnupriya Manipuri. One will be amazed to come to terms with the vital piece of information that the language Bishnupriya Manipuri is spoken by as many as 4,50,000 people all over the world. A few of the places where people love to speak the same language are Myanmar, Bangladesh, Meghalaya, Tripura, Assam and Arunachal Pradesh.